"Winter near the poles is a demanding season – and not everyone appreciates the discipline. It is a season when death's victory can seem supreme; few creatures stir, plants do not visibly grow, and nature feels like our enemy. Yet the rigors of winter are accompanied by amazing gifts.
One gift is beauty ; I am not sure that any sight or sound on earth is as exquisite as the hushed descent of a sky full of snow.
Another gift is the reminder that times of dormancy and deep rest are essential to all living things. Despite appearances, nature is not dead in winter, it has gone underground to renew itself and prepare for spring.
A few months ago, my father died. He was more than a good man, and the months following his death were a long, hard winter for me. But in the midst of that ice and loss, I came into a certain clarity that I lacked when he was alive. I had relied on him to help me cushion life's harder blows, and my first thought was "Now I must do it for myself"
As time went on I saw a deeper truth; it never was my father absorbing those blows, but a larger and deeper grace that he taught me to rely on."
from Parker J Palmer "Let Your Life Speak" p102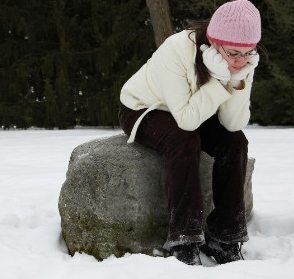 Sonnet 97: How like a winter hath my absence been
How like a winter hath my absence been
From thee, the pleasure of the fleeting year!
What freezings have I felt, what dark days seen!
What old December's bareness everywhere!
The teeming autumn, big with rich increase,
Bearing the wanton burthen of the prime,
Like widow'd wombs after their lords' decease:
Yet this abundant issue seem'd to me
But hope of orphans and unfather'd fruit;
For summer and his pleasures wait on thee,
And thou away, the very birds are mute;
Or if they sing, 'tis with so dull a cheer
That leaves look pale, dreading the winter's near.