LISN believes that every person has access to an inner source of truth, named in various wisdom traditions as identity, true self, heart, spirit or soul.
The inner teacher is a source of guidance and strength that helps us find our way through life's complexities and challenges.
Today pay close attention to your own reactions and responses, to your most important teacher, your Self.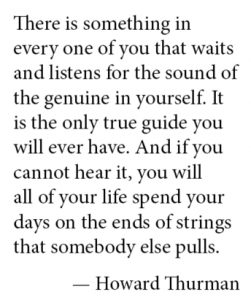 Where do you hear the whispers, or shouts, of the genuine voice inside you?
There is an instinct in us for renewal, for a liberation of creative power. We seek to awaken in ourselves a force that really changes our life from within. And yet this same instinct tells us that this change is a recovery of that which is deepest, most original, most personal in ourselves.
— Thomas Merton