« Glossary Index
Interfaith is a movement about bringing our minds, hearts and hands into acceptance and acknowledgement of difference, to appreciate both one-ness and difference of spiritual beliefs, faith and though while always affirming the rights of justice, freedom and equality.
The birth of the Interfaith movement occurred at the 1893 gathering of the Parliament of World Religions.
Getting to know the 'other' as the Jewish philosopher, Martin Buber implied, is the ability to look at one an-'other' without leaving our own perspective behind, but broadening our understanding of the other. This Interfaith Dialogue Documentary
talks about the different understandings of why different
religions
view each other with distain, and it points out that in many cases it is politics and power that create the soil for the seeds of hate, not the basic intent of the
religions
.
Recognizing our willingness to accept an "I" and "Thou" relationship that Buber talks about is allowing culture and faith to hold hands towards the threshold of realizing the Eternal "Thou."
Non-judgement is a virtue we admire, but it is not an easy habit to acquire.
The African diaspora led to the realization of what is called Kwanzaa intent:
Umoja (Unity of all)
Kujichagulia (Self-Determination):
Ujima (Collective Responsibility):
Ujamaa (Cooperative Economics):
Nia (Purpose of peace):
Kuumba (Creativity)
Imani (Faith)
Interfaith requires these intentions, it is insufficient to just talk about points 1 5 and 7, each of us needs to apply acceptance and non-judgment in creating a world community of peace. The practice of this involves all the Kwanzaa points of awareness.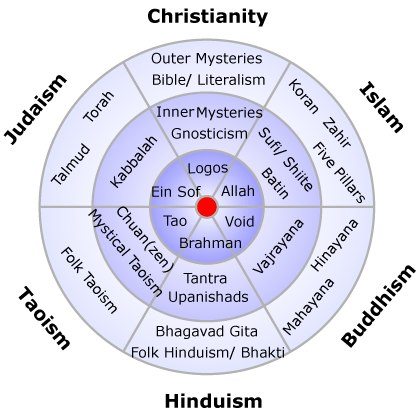 See also : Concepts of God, Metaphor
Full Glossary Index