Do I have to prepare?
No. However you may find it useful to read these pages prior to attending a KindNest, so you are familiar with what happens.
Optional: If you want to share something from your heart, such as an artistic image or poem, you are welcome to bring that along as an adjunct to telling your story in the small group you will participate in.
Who can attend?
If you are human and willing to accept the responsibilities of attending, you are welcome. Your background is irrelevant, it is your heart, not your history, that KindNest wants you to share. Please note that KindNest invites you to be authentic, but it is not a forum for promoting yourself, your ideas or beliefs.
Can you have fun at KindNest?
Yes, there is music and laughter, and a lot of joy available from listening to the stories of others without any obligation to 'fix' them.
Oh yes, please bring a smile.
What are the sources of the KindNest principles?
KindNest principles are supported by science, psychology, most religions and ethical traditions. The resources are available on the internet, and you are encouraged to use them. There is no intended bias, political, religious or financial. KindNest is not the place for debate, selling or argument.
Is KindNest intended to be a Community, or an opportunity?
KindNest is definitely an opportunity, to participate for a while in relationship through respect, listening and heart-led sharing. You don't have to know the others in your small group to benefit. You also don't have to commit to regular attendance or homework.
So is KindNest a community?
Community has some characteristics of ongoing relationship and connection, regular participation, does it not?
Humans have always desired a strong need for connection that includes collaborative celebration and 'being heard' in a safe place. Perhaps we could call it a village, or home, where the residents stay for a lifetime, and so are forced to get to know each other. However such words have two main issues, implying 'stuckness' with a rigid social order, and also likely rejection of new thinking. Neither of these characteristics are typically attractive in our emerging world.
What would be the characteristics of an optimal modern community that is heart led, rather than based on opinion or knowledge?
In other words, would you prefer to be right, or to be loved?
So if you wanted regular interaction these KindNest principles would be the characteristics of the community you sought. A KindNest can, with agreement, either become, or be associated with, a community that supports the KindNest intentions.
Many of us have word associations between what we call communities or groups, and anxiety, fear or judgment. Such associations do not encourage us to grow and flourish.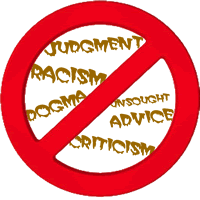 For example, you may associate court or parliament with judgment, mob or army with fear, church or mosque or synagogue with anxiety. Can you think of a community or group name that doesn't have some negative aspect objectively associated with it?
There are groups such as the Nazis or Klu Klux Klan which reject some people based on color or belief etc. A simple test about ubiquitous positive association could be "A group that accepts all humanity, without judgment or opinion?" That is what the United Nations says are inalienable human rights.
What would we call such a community? It could be called a kind nest. A place of nurture (nest) where you are looked after with kindness.
What are the intentions/expectations of KindNest?
Expectations of participants are outlined here, but also on this page:
All participants commit to the rule of heart-led kindness to each other

No judgment, opinion or indication of superiority

There is a scheduled time for silence and/or listening to each other in a small group, with personal intentions to:

listen from the heart: affirming both the other and ourselves as we listen deeply to each other's stories.
speak from the heart in the present moment: to be vulnerably honest with ourselves and others
be lean of speech: to cut to the chase, and say only what needs to be said
be spontaneous: to open to our own authenticity
Preserve boundaries of respect, including holding confidential what is said in confidence unless specific approval is given
respect others without criticism, unasked advice or comment
only ask heart-led questions to which there is no way of predicting the answer, with the intent to assist the speaker's story

There is opportunity to sing and to dance together
Actions of kindness and compassion , for example smiling more 🙂
Intent to heal and comfort others where the opportunity arises – Letting go of the ways that no longer serve us.